SaaS Rack
Features
SaaS Rack Services helping you to manage features of your application, but also let you manage access to these features and billing for Software as a Service (SaaS) applications and microservices. With the build-in IAM (Identity & Access Management) you have every customer and user under control.
Feature based billing
Charge your customers based on bundles of features and pricing plan. Invoicing, transaction and tax calculation for comprehensive billing capability.
Feature Groups
Create specific groups by enabling or disabling features of an application or microservice. Applications can have many groups with different features. Good for beta testing or DevOps groups.
IAM
IAM enables your application to utilise the authentication & authorization functionality for users and m2m applications with role-based access control systems (RBAC). You can also use 3rd Party Identity Providers such as Google or Facebook.
SSO & OAuth
Single Sign On for all applications and subscriptions. Utilising the standard protocol of OAuth for easy integration and interoperability.
Multi Tenancy capability
With multi tenancy enabled you can manage unlimited sub accounts for resellers, cost centers within cooperates and branches. Inherit price plans and features.
Front- & Backend Applications
BFaaS incorporates with both Frontend and Backend. Any changes to feature groups are available instantaneously.
SaaS Rack – Enterprise Features as a Service


Create cost center accounts or tags for better account organization. Apply cost effective pricing plans with fine grained feature groups, avoiding traditional big upfront software costs.
Insights &
Extendable
Get insights and analytics of your customers and resellers.
Assign specific pricing plans to dedicated resellers.
SaaS Rack provides a REST API for further integration and development.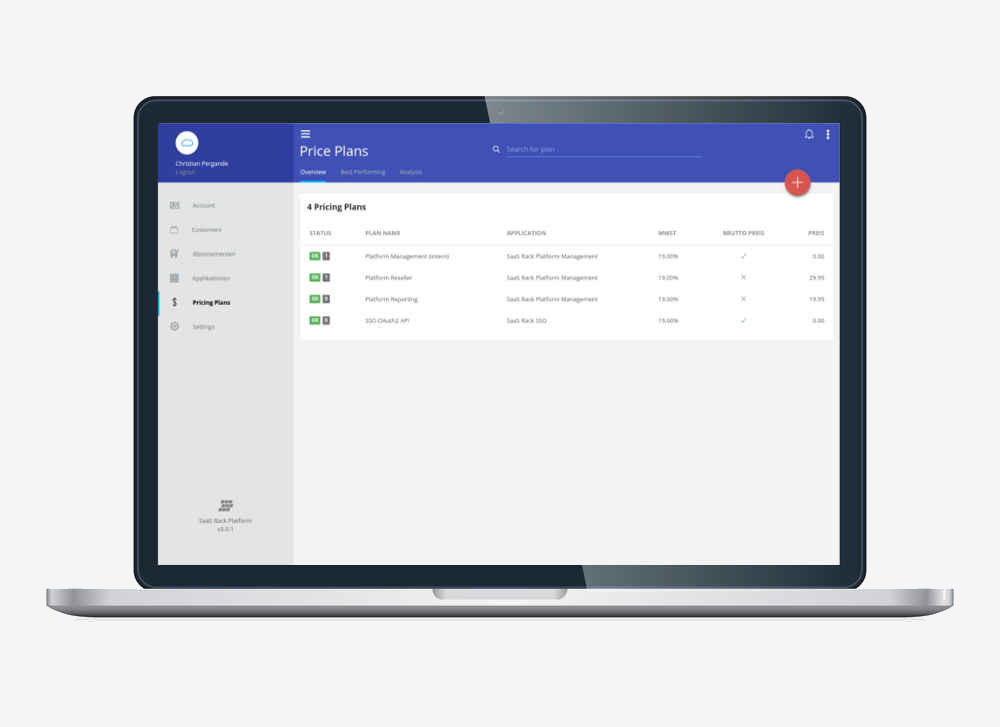 SaaS Rack
Cloud
You can use either our SaaS Rack as a Service or have it installed on premise. No credit card needed.

StartUp
2 Team Members
100 Customer Accounts
2 Feature Groups
2 Pricing Plans
24/7 Support
Branded Account

SMB
10 Team Members
Unlimited Pricing Plans
Unlimited Sub Accounts
Unlimited Feature Groups
24/7 Support
Branded Account

Enterprise
Unlimited Team Members
Unlimited Pricing Plans
Unlimited Sub Accounts
Unlimited Feature Groups
24/7 Support
Branded Account
Private Cloud
Hosting
SaaS Rack can help you to build the infrastructure and do the maintenance. You can concentrate on your business.
Our premium partner for professional Continuous Integration, Continuous Delivery and cloud solutions can help you to implement latest technology to achieve an state-of-the-art cloud solution on Amazon Web-Services (AWS).